Tell-Marketing
LEGAL "Tell-Marketing" for the 21st Century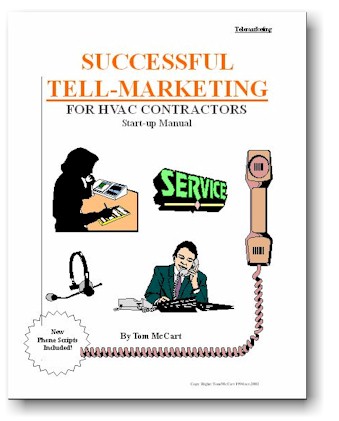 You have a right and an obligation to call your own customers to keep them informed!

"Back sell" your own customer base instead of making intrusive "telemarketing" calls. Do something proactive when the phone isn't ringing and reduce your cost of generating sales leads!

Startup manual to help you develop and build your own telemarketing department. Includes time-tested, field-tested scripts and tracking forms.
Over 150 pages to assist you in developing your program.
Learn how to:
Generate equipment leads
Sell seasonal tune-ups
Acquire maintenance agreement customers.
NORMAL PRICE: $99 ON SALE: $49
SPECIAL OFFER: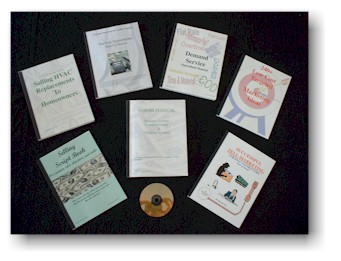 Order & Shipping Information
Order the entire Tom McCart Library of all seven books for only $499 $299 (plus shipping & handling) and get a FREE copy of "From the Sky Up: the Tom McCart Story" on DVD!
THAT'S OVER 30% OFF THE NORMAL PRICE!
To take advantage of this special, limited time offer, click on the "Add to Cart" button or call 1-800-963-HVAC (4822). Orders typically ship the following business day.
Read Charlie Greer's Retrospective of Tom McCart.
NOTE: Tom McCart died of Lou Gehrig's Disease on June 10, 2004. ALL of the proceeds from the sale of Tom McCart products go to his family to pay for his medical and long-term care expenses. To date, the sale of these products has raised over $100,000.