Skype Training
Charlie Greer can consult with you, and train your plumbing, electrical, or HVAC service technicians, salespeople, and CSRs via Skype.
Learn how to really get the Paper Towel Close down and close more sales at higher prices.
What is Skype?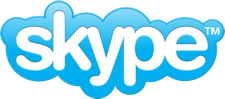 Skype is a totally free, spyware-free program you download to your computer that allows us to talk on video, with no long-distance charges.
System requirements: Your computer must have a webcam and a microphone. They are built in to most laptops, or can be purchased for $50-80. When a Skype call is initiated, your camera and microphone are automatically activated.
Download Skype for free at http://www.skype.com
What does a Skype call consist of?
Initial consultation with contractor/managment on areas of concern
You fax or email me copies of Paper Towel Closes generated by your service technicians or salespeople
I review them, then if need be, consult with the contractor/management in advance of the Skype call
I discuss their service calls with your service staff and offer suggestions on making them better
Follow-up conversation with the contractor/management.
What's a Paper Towel Close?
It's my signature move and the way I write up my suggestions on service and sales calls. I've ben told it's the most important thing I teach. If you or your techs don't know how to do it, it's all the more reason for us to Skype.
Once we start Skyping:
We work very closely together. You can call me or email as often as you like about anything. I make it my business to make your business more profitable.
Testimonials:
"The calls were great and really gave us some things to work on. The guys started selling more the same day." - A.B.
"I don't know what you told him but he's a new man. He's super motivated and his sales have improved." - D.H.
HOW TO BOOK SKYPE TRAINING WITH CHARLIE GREER:
Call me at 1-800-963-4822, or email me at charlie@charliegreer.com to arrange for a Skype call and to discuss the details, such as what we'll be covering.
Send me a "contact request" via Skype. My Skype ID is "charliegreer"
When you call me to set up your Skype call, I will walk you through the process.
Cost: $500 covers the initial consultation, an approximately 60-minute Skype call with your staff, and a follow-up phone call with you.
GUARANTEE: YOU WILL RECEIVE INSTANT RESULTS WITH HIGHER SALES THE DAY OF THE SKYPE CALL OR YOUR MONEY BACK!
SERVICE ROUNDTABLE MEMBERS RECIEVE A 10% REBATE THROUGH ROUNDTABLE REWARDS!