Slacker's Guide to HVAC Sales
Slacker's Guide to HVAC Sales
Your Slackers Guide to HVAC sales was the single most influential piece of my HVAC sales education. I have consistently ranked in the top tier ($2M+ per year) of sales and I attribute much credit to you.

Click here for a list of topics covered on individual tracks.
Click here to compare Slacker's Guide to the Tec Daddy DVD series.
Click here for purchase options.
Audio Samples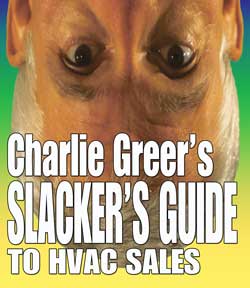 Do you know what to say when they tell you:
I want to wait!
Your price is too high!
I want to think it over!
I want to get other bids!
I have to talk it over with my husband!
Do you realize that every time you give someone a price and they buy from someone else, you've just spent money to generate a lead, and all you generated was bad publicity? What do you think they're going to say when someone asks them who they should buy a new system from? "Don't buy from them, they're too high!"
You have got to get that closing ratio up! With "Slacker's Guide to HVAC Sales on Audio CD", your closing ratio will go up and you'll start using your time more effectively. You'll make more money with less effort, act more confident and feel better about yourself. Everyone will love the new and improved you!
The market is changing. It's harder to sell than ever. You've got to adapt to these changes! Evolve or Die!
I cannot thank you enough. This material has given me the power to grow my business and I can already feel the dream coming true.
Slacker's Guide to HVAC Sales will teach you:
Closing techniques
Psychoneuromotorlinguistics
How to make a follow-up call
How to deal with "one-leggers"
The steps to a successful sales call
How to establish rapport non-verbally
How to use your customer files to make sales
What to say when they call asking for a "ballpark price"
How to make sales every day of the year, regardless of the weather
How to use somatic responses, dendrites, post-hypnotic suggestions, brain chemistry and behavioral science to make sales and influence others.
This series can make you millions of dollars in extra sales, will give you a more positive outlook, will win you the admiration of others, and costs less than the profit you'll make on one sale!
Use one technique from this series to close one sale, and it's paid for itself!
SLACKER'S GUIDE TO HVAC SALES IS ONE (1) MP3 DISC WITH OVER 10 HOURS OF AUDIO TRAINING AND ONE (1) FORMS CD-ROM: $199