Service Agreement Startup Manual
Service Agreement Start-up Manual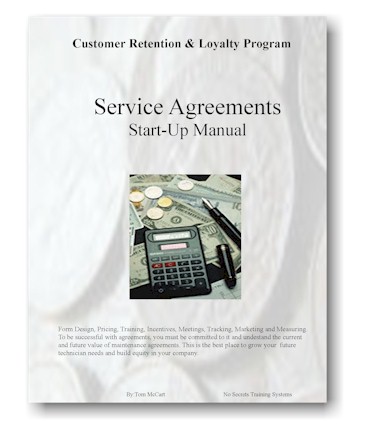 Pave your future with an agreement program!

A great source if you are just starting up an agreement program or want to revitalize your existing program.

120 pages packed with info on:
Pricing your agreement
Types of agreements
Commercial and residential
Tracking systems
Spiff program
Scheduling
Forms design
Sample forms included
Brochures
Employee incentives
Contests
Marketing
Direct mail pieces included
Telemarketing scripts
Measuring your program.
Best practices.

REGULAR PRICE: $99 ON SALE: $49
SPECIAL OFFER: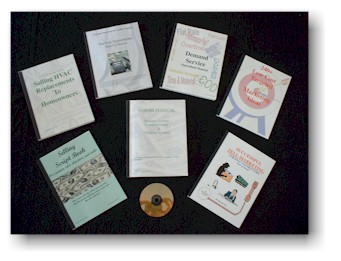 NOTE: Tom McCart died of Lou Gehrig's Disease on June 10, 2004. ALL of the proceeds from the sale of Tom McCart products go to his family to pay for his medical and long-term care expenses. To date, the sale of these products has raised over $100,000.

Order & Shipping Information
Order the entire Tom McCart Library of all seven books for only $499 $299 (plus shipping & handling) and get a FREE copy of "From the Sky Up: the Tom McCart Story on DVD!
THAT'S OVER 30% OFF THE NORMAL PRICE!
To take advantage of this special, limited time offer, click on the "Add to Cart" button or call 1-800-963-HVAC (4822). Orders typically ship the following business day.
Read Charlie Greer's Retrospective of Tom McCart. Return to top of page