HVAC Selling Script Book
Selling Script Book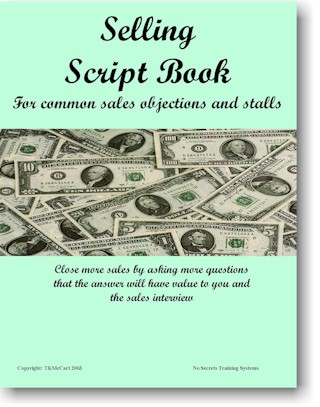 Ever been at a loss for words during a call?

What do you say when the customer says:
"Your price is too high"
"It's still working"
"I can get it cheaper"
"I want to think about it"
"I have a friend or a relative in the business"
"I use another company for service"?

If you want to make it in sales, you better know how to respond to these very common sales objections, and this book will tell you how!

Owning this book is the first step in really making it in residential replacement sales.

You'll wonder how you ever got along without it!

REGULAR PRICE: $39 ON SALE: $29
SPECIAL OFFER: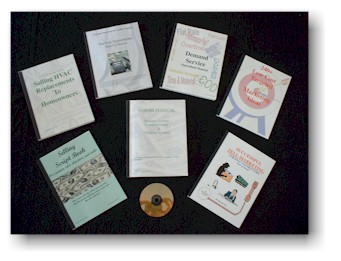 NOTE: Tom McCart died of Lou Gehrig's Disease on June 10, 2004. ALL of the proceeds from the sale of Tom McCart products go to his family to pay for his medical and long-term care expenses. To date, the sale of these products has raised over $100,000.

Order & Shipping Information
Order the entire Tom McCart Library of all seven books for only $499 $299 (plus shipping & handling) and get a FREE copy of "From the Sky Up: the Tom McCart Story on DVD!
THAT'S OVER 30% OFF THE NORMAL PRICE!
To take advantage of this special, limited time offer, click on the "Add to Cart" button or call 1-800-963-HVAC (4822). Orders typically ship the following business day.
Read Charlie Greer's Retrospective of Tom McCart. Return to top of page