HVAC Spells Wealth (The Book)

Meet Ron Smith:
A Founder and a member of the Board of Directors of Service Roundtable
Member of the Contracting Business HVAC Hall of Fame
Recipient of the Service Roundtable "Servant Leader Award"
The Tom McCart HVAC Consultant of the Year.

"I worked for Ron Smith at Modern Air. I can personally vouch for the content in these manuals. Ron Smith is one of those rare consultants who actually ran his company the way he suggests that you run yours." -- Charlie Greer
The HVAC Spells Wealth Book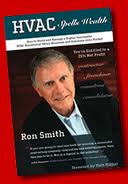 The most comprehensive "how to" book ever published in the HVAC industry. How to build and manage a highly successful HVAC residential retail business. You're entitled to a 20% to 25% net profit! Others are doing it. Now, you can too!

The procedures, processes, systems, recruiting and hiring techniques, training, marketing, your portfolio of products and services, 13 steps to a complete sales program, pay plans, industry benchmarks or key performance indicators, organizational design, service agreements, calculating market share, forms and documents and much more. 316 pages, including 41 exhibits.
I recommended this book to a contractor friend of mine who was already earning a 20+% net profit. He said this book showed him how much he didn't know and thanks me every time we talk for recommending it to him. -- Charlie Greer
Get the book for $24.95
Order by phone: 1-800-963-4822
More Ron Smith Products:
HVAC Spells Wealth on Audio CD
Light Commercial Service Agreements
SPECIAL OFFER:
Get all three Ron Smith products and get a FREE copy of From the Sky Up: The Tom McCart Story on DVD.
$99.85 We combine shipping. Order more and save more.
To order now, click here or call 1-800-963-HVAC (4822)

NOTE: ALL of the proceeds from this website's sale of Ron Smith products go to the family of the late Tom McCart to pay for his medical and long-term care expenses.