Plumbing Service Agreements Made Simple by Charlie Greer
PLUMBING SERVICE AGREEMENTS MADE SIMPLE: $99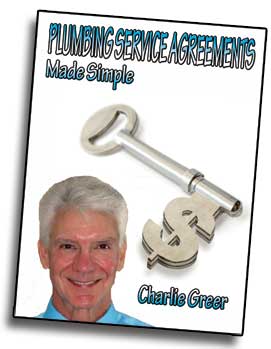 SERVICE ROUNDTABLE MEMBERS RECEIVE A 10% REBATE THROUGH ROUNDTABLE REWARDS!
Increase your average service invoice
Provide you with happier customers
Help you retain service technicians
INCLUDES TWO (2) AUDIO CDs AND A CD-ROM.
MANAGER AUDIO CD:
Company benefits of Plumbing Service Agreements
The Plumbing Service Agreement Form
Pricing the Plumbing Service Agreement
Employee Incentives
What Managers Needs to Know About the Plumbing Inspection
Renewals.
PLUMBING TECHNICIAN and CSR AUDIO CD:
Customer and Employee Benefits of Plumbing Service Agreements
What Plumbers and CSRs Need to Know About the Plumbing Inspection
Seven Necessities for Success in Plumbing Service Agreement Sales
Tips for Incoming Call-Takers
The Courtesy Inspection
The "Paper Towel" Close
The "Done Deal" Close
CD-ROM:
Service Agreements Forms included!
Manager's Manual
Manual for Plumbing Technicians and CSRs.
I highly recommend Charlie Greer's training packet "Plumbing Service Agreements Made Simple". It will change the way you think about service agreements. Especially applicable for the smaller shop. Excellent sales tool, and a real bargain at $99. (S.M.)