Official Tec Daddy's Service Technician Survival School Badge
THE OFFICIAL TEC DADDY'S SERVICE TECHNICIAN SURVIVAL SCHOOL ON DVD BADGE!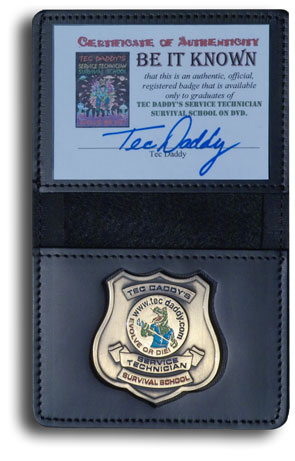 You earned it! You deserve it! Now, show your colors!
Great incentive. Employee Recognition. Collector's Item
Details:
Cast in brass with antique finish (badge measures 2.25" X 2.25")
100% leather wallet (folded size 3" X 4")
Certificate of Authenticity (each individually signed by Tec Daddy).
These are real "police style" badges made by the same people who make badges for law enforcement officials throughout North America. Impress your friends. Reward your employees. Get a feeling of accomplishment.
$49 each
Save more with a Five-Pack of Tec Daddy badges at $199
Need even more? Call 1-800-963-4822 to Order