Light Commercial Service Agreements

Meet Ron Smith:
A Founder and a member of the Board of Directors of Service Roundtable
Member of the Contracting Business HVAC Hall of Fame
Recipient of the Service Roundtable "Servant Leader Award"
The Tom McCart HVAC Consultant of the Year.

"I worked for Ron Smith at Modern Air. I can personally vouch for the content in these manuals. Ron Smith is one of those rare consultants who actually ran his company the way he suggests that you run yours." -- Charlie Greer
Complete Guide to Light Commercial Service Agreements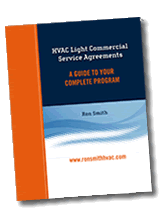 Includes sales lead sources, how to compensate sales reps, pricing strategy, job description for sales reps, management of sales reps, customer retention and renewals, service agreement benefits -- customer, coworkers and company, a businesses' worst fear and how to use it in sales, the landlord/tenant relationship, other sales as a result of service agreements, direct mail letters, service agreement document, pricing worksheets, commission reconciliation, sales rep newspaper classified ad, and daily report. 79 pages.


$24.95

Call 1-800-963-4822 to order


More Ron Smith Products:
HVAC Spells Wealth on Audio CD
SPECIAL OFFER:
Get all three Ron Smith products and get a FREE copy of From the Sky Up: The Tom McCart Story on DVD.
$102.85 We combine shipping. Order more and save more.
To order now, click here or call 1-800-963-HVAC (4822)

NOTE: ALL of the proceeds from this website's sale of Ron Smith products go to the family of the late Tom McCart to pay for his medical and long-term care expenses.